Don't you just get a wee bit excited when a trend you used to love gets its second wind? It's such a shame when you first see it die out, like around 2008 when Sass & Bide's harnesses were all of a sudden in full force, then just as fast as they came, they left the scene. But thankfully (like middle parts) they're baa-aack!
For a while now I've been following designer
Zana Bayne
, who initially reminded me of
Paula Kyle Walden
which is probably why I fell in love with her stuff in the first place. Her focus on e
xtreme shoulder appliqué and leather harnesses
make her the absolute go-to girl when on the hunt for this trend.
A few weeks ago, model Hanne Gaby Odiele was snapped wearing a
Zana Bayne tan leather harness ialled "The Basic"
in the Alexander Wang show at NYFW (pictured below). Does this not just make you melt a little? Like,
could a leather harness be any less BDSM and more street-style
than ever before?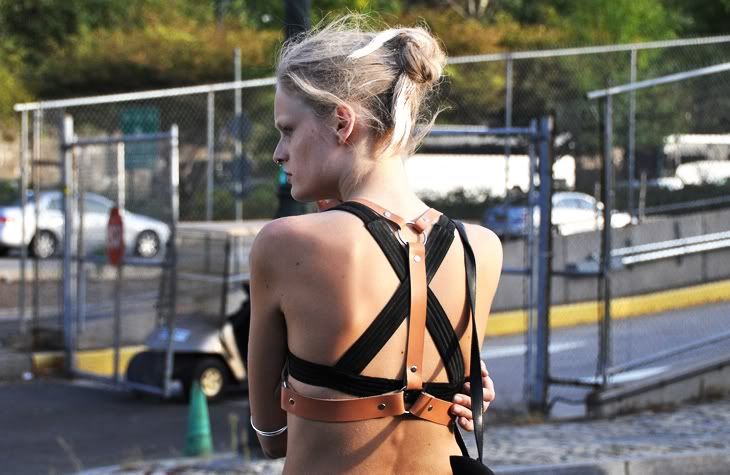 To further excite me, New Zealand American designer Nicole Miller (who was invited to show in New Zealand) worked the harness trend into her collection at NZFW. Although a little reminicint of the strappyness of previous Sass & Bide crepe silk dresses and a little whimpy in terms of adopting the trend in all its leathery glory, I still love the look none the less.